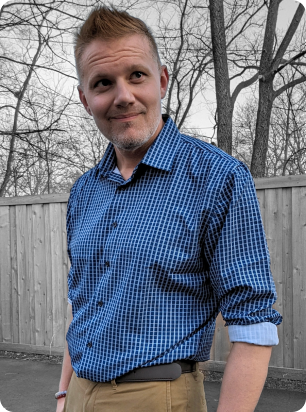 Drew
Hartfield
Drew Hartfield
UX/UI Designer
Drew Hartfield (he/him) is a UX/UI Designer with a background in Psychology and Behavioral Health, enabling him to connect with users and improve their experience through design. His experience in research gives him an edge when discovering user needs and developing empathy.

His skills include user research, user interviews, storyboards, and prototype testing.
He brings value to the team with knowledge of Miro, InVision, Figma, G-Suite, Slack, Trello, and Zoom.

Greatest Hits

KidVentures: The solution for parents traveling with young children. Simplify your travels, minimize stress, and maximize your family's joy!

Have you ever wanted to send your favorite uncle a clown for his birthday? While now you can with PerformaPalooza, the app which connects you with entertainers in your area.

No Dog Left Behind is an organization dedicated to the finding forever families for dogs and protect and advocate for abused, neglected, and abandoned dogs.
thanks for taking a look
thank you